Ready to transform your home with the power of paint? A fresh coat of interior paint can do wonders to elevate any space, from bold accent walls to soothing neutrals, and from creative ceilings to striking trim and woodwork. In this blog post, we'll explore 18 innovative interior painting ideas for every room in your home, ensuring that your living spaces will look fresh, stylish, and uniquely yours. So let's dive in and get inspired!
Bold and Beautiful Accent Walls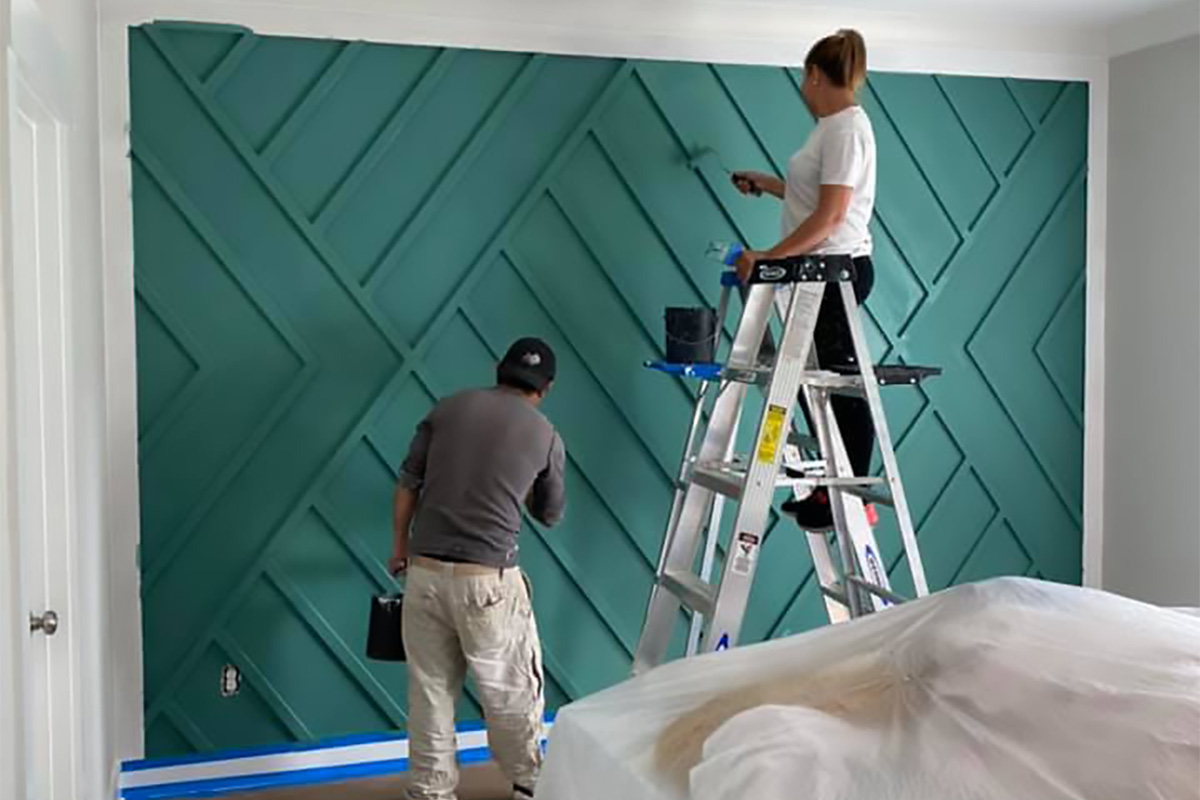 Accent walls can be used to create a bold statement, or simply add a touch of color. Create an accent wall with vibrant hues, geometric patterns, or textured finishes. These eye-catching wall painting ideas instantly add visual interest, drawing attention to architectural features and making the selected wall a focal point in the room.
Bold and Beautiful Accent Walls
Vibrant hues grab attention and bring a bold, energetic feeling to the room. Explore bright colors currently on-trend or lean toward one of your longtime favorites. Royal blue, green smoke, or Dutch orange make for good accent wall colors, adding a pop of color and creating contrast with other colors in the room.
Modern and dynamic geometric designs can be incorporated for a visually, and tactilely, appealing accent wall. Geometric patterns can be created using paint, wood, or other materials and can include designs like chevrons, honeycomb, and herringbone. Experiment with deep colors for a striking and bold effect in your master bedroom or formal dining room.
A patterned wall can complement existing architectural features in your home. They can also serve to add texture and depth or create this illusion in homes with less architectural complexity.
Add dimension and creative designs to an accent wall with textured paint techniques or specialty finishes. Textured finishes can give a room an interesting look, conceal wall blemishes, and create a one-of-a-kind look. Explore techniques like:
Sponging
Ragging
Stippling
Combing
Stenciling
When applying textured finishes, it's essential to use the right tools, ensure your strokes are even, and practice on a sample board before applying to the wall.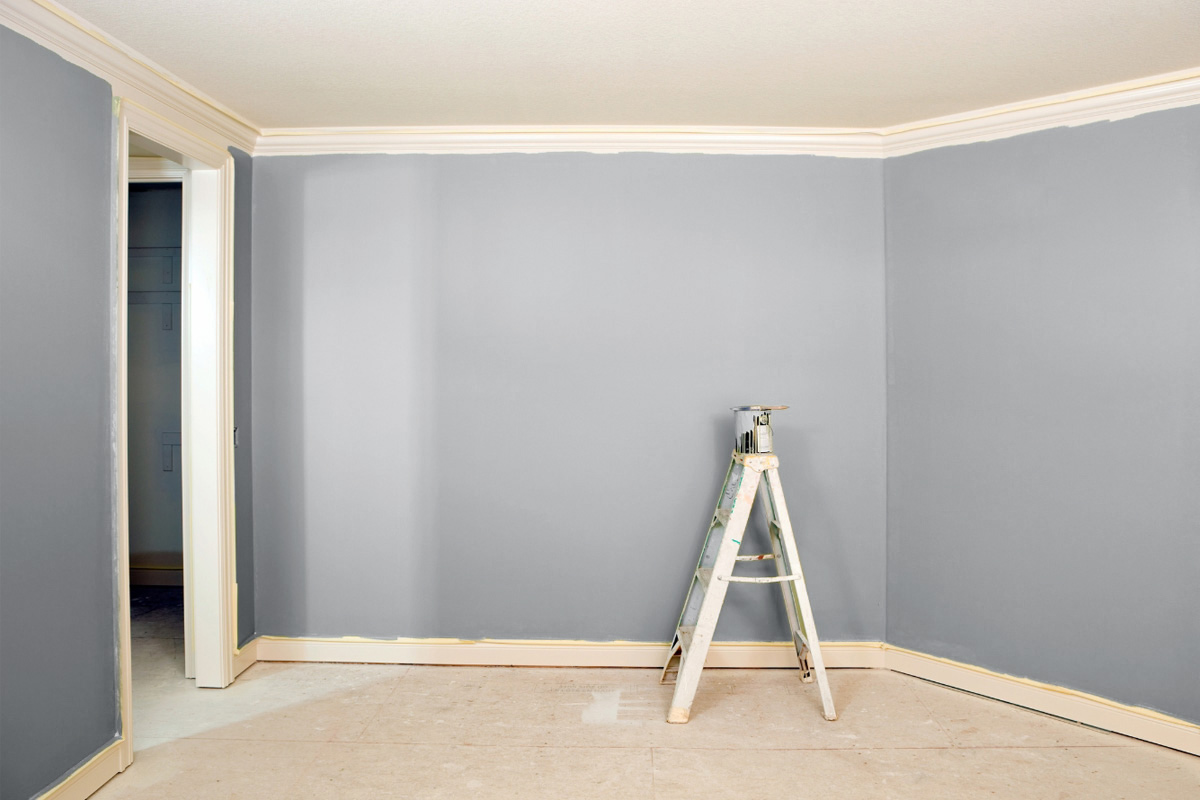 Neutrals are a timeless and versatile choice for interior painting, allowing you to create a sophisticated look in any room. They allow for a more diverse use of furniture and decor, and make changing the look and color scheme of a room much simpler.
Explore the world of warm, cool, and balanced neutrals to find the perfect color palette for your space. From the cozy warmth of Sherwin Williams' Minimalist to the cool crispness of Guild Grey, neutrals can foster a balanced and inviting atmosphere.
Warm neutrals have a yellow, orange, or red undertone, making them perfect for creating a cozy and inviting atmosphere in a living room, kitchen, or den.
Cool neutrals have a blue, green, or gray undertone, and are an excellent choice for a modern look as they create a clean, fresh, and sophisticated vibe. Cool tones are energizing and work well in an office or well-lit den.
Consider combining two of our inspirational tips by adding texture or pattern to your cool neutral designs for your own personalized . This can be done with wallpaper, rugs, and other textiles.
Not all neutrals are boring beige!! Bright neutrals pair easily with other hues, whether with warm or cool tones, while providing a splash of color to your walls. Dustblu, for example, adds a relaxing vibe to your entryway or family room with its cyan undertone. Paired with Ice Cube trim and ivory or gold accent pieces it stands out and is anything but boring.
For help selecting a color palette or picking between the 100+ shades of grey, contact our Color Consultant, Bethanny! She has an experienced background in art and design and is skilled in helping customers pick out the best colors for their style and home.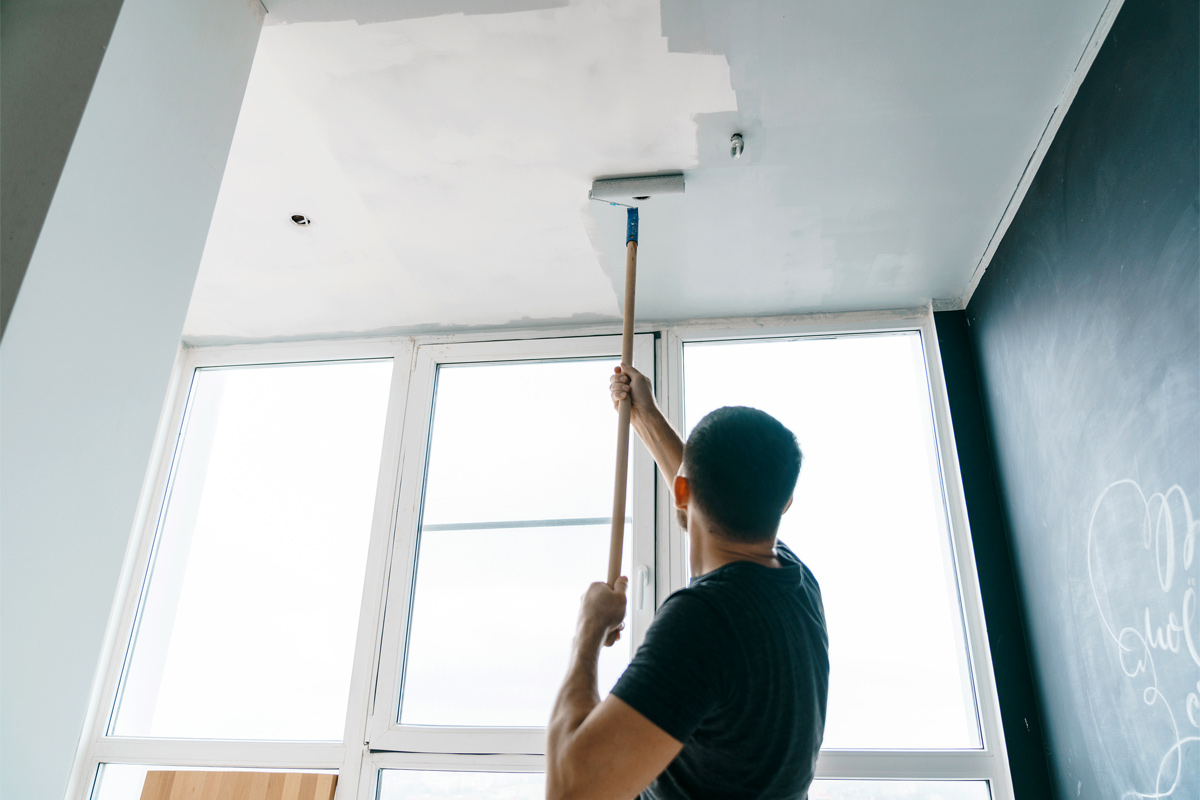 Don't forget to look up - your ceiling offers an excellent opportunity to elevate your room's design. Statement, colorful, or patterned ceilings are growing in popularity and add a unique visual element to your home.
From bold colors to intricate patterns, there's no limit to the creativity you can bring to your ceilings.
Make a bold impact with a striking color or design on your ceiling. Statement ceilings can include:
Hand-painted silver gilt
Bold color
High-gloss coffered ceilings
Uniform beams
Silver leaf designs
So often, ceilings are left out in the overall interior design of your home. These unique ceiling designs will include your overhead space in the complete room design adding a dramatic effect that draws the eye upward. A statement ceiling can be the perfect way to add a touch of luxury to your home.
Add a pop of color to your ceiling for a unique and unexpected touch. Choose a color that complements (or even matches) the rest of your room's decor for a cohesive look, or go bold with a contrasting hue for a more eye-catching effect.
From vibrant blues to calming greens, colorful ceilings can tie in all the elements of your room or add a zing of excitement and personality to it.
Similar to your patterned accent walls, you can create a similar effect on your ceiling. Consider adding a pattern or texture on your ceiling with paint, wallpaper, or wood detailing. From geometric designs to nature-inspired patterns, there are endless possibilities for creative ceiling designs that will elevate your room's style.
Coffered ceilings are another way to add greater dimension and help create more visual interest on especially high ceilings or large rooms.
Whether you're looking for a subtle accent or a bold statement, there's something for everyone.
Striking Trim and Woodwork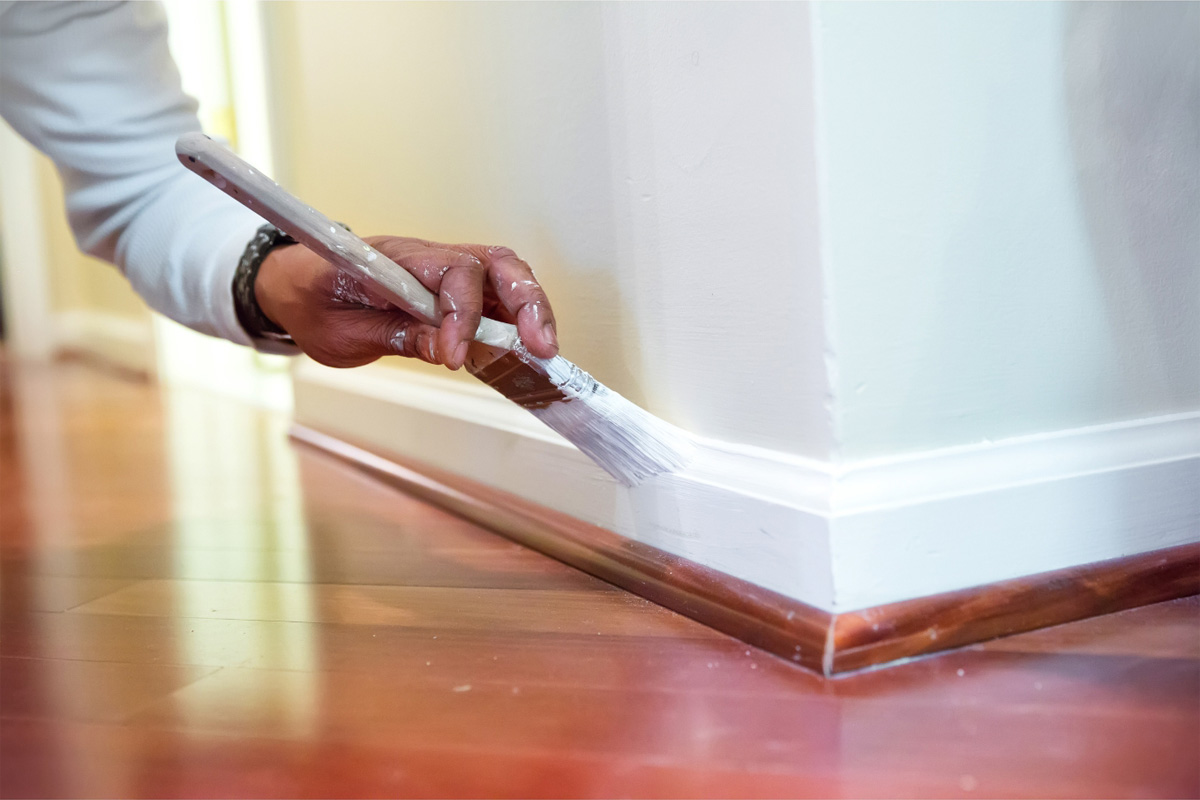 When considering the effects of fresh paint on your room, don't forget about the trim! Enhance your room's design with modern monochromatic schemes, bold contrasts, or unexpected combinations on trim and woodwork. Painting either of these pieces can add to your overall design aesthetic as opposed to allowing them to remain an overlooked side piece.
Use contrasting colors on trim and woodwork for a dramatic effect. This can be achieved by pairing a dark color with a lighter shade or using a darker shade with complementary colors from the color wheel.
For the adventurous, experiment with unique color pairing on your trim and wall for a one-of-a-kind design. Try pairing a bright yellow with a deep navy blue, or a light pink with a muted olive. Combining bold and vibrant colors or using unconventional shades adds character and personality to your space, making it truly stand out.
Bold contrasts not only add visual interest to your space, but also play into the overall look and feel of your room. They can amplify the invigorating vibe or intensify the peaceful mood.
Conversely, why not coat your trim and woodwork the same color as your walls for a contiguous and streamlined look? This technique creates a clean, modern look and sense of balance, while still adding interest and depth to your room's design.
Transformative Floor Painting Techniques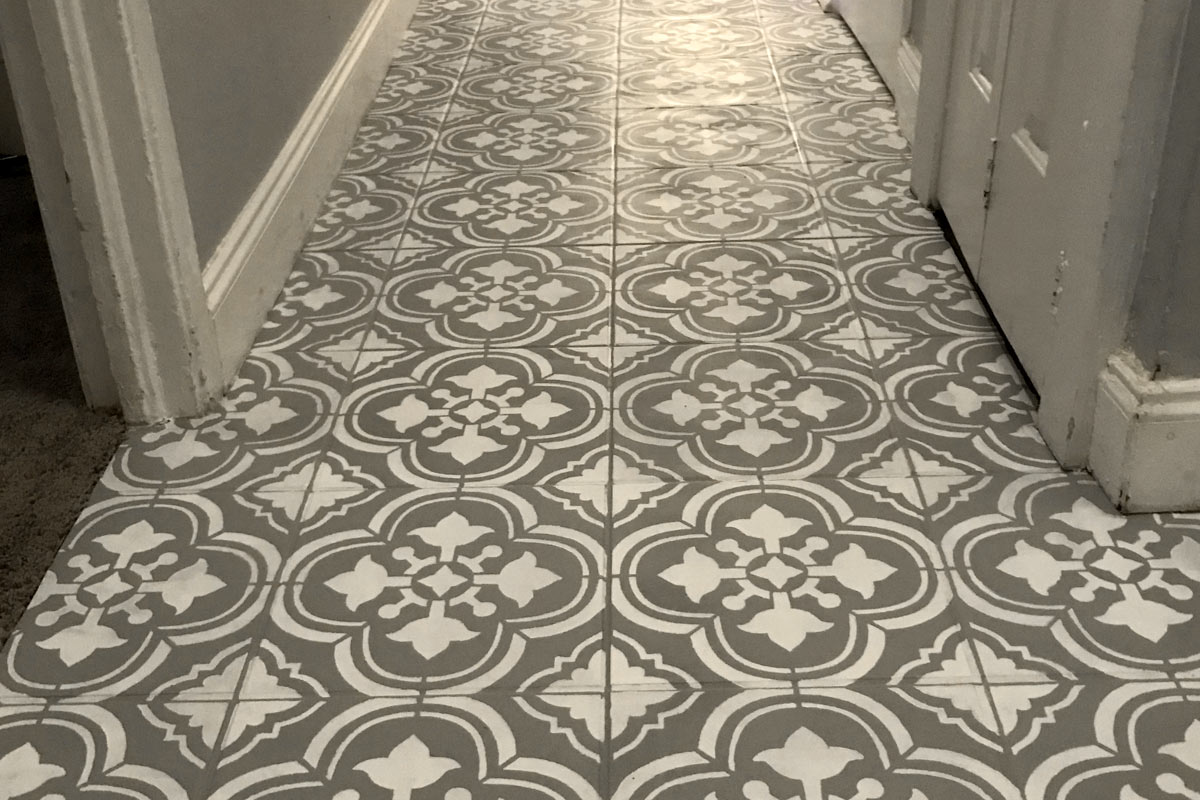 Update your floors with stenciled patterns or faux finishes for a fresh and stylish look. These floor painting techniques can breathe new life into your space, adding a touch of creativity underneath your feet.
From intricate designs to the illusion of natural materials, there's no limit to how paint can enhance or transform your floors.
Stenciling can be used to easily create patterns, shapes, or even words on your floors, adding an artistic touch to your mudroom or child's room. Choose a design that complements their style and decor, and consider different colors, thematic elements, and techniques to create a unique and eye-catching floor design.
Mimic the look of natural materials like wood or stone with faux painting techniques on your floors. Faux finishes can give your floors a unique and stunning look, without the need for expensive materials or installation.
Experiment with different techniques and deep colors to create a floor design that adds depth and character to your space.
Artistic Murals and Wall Designs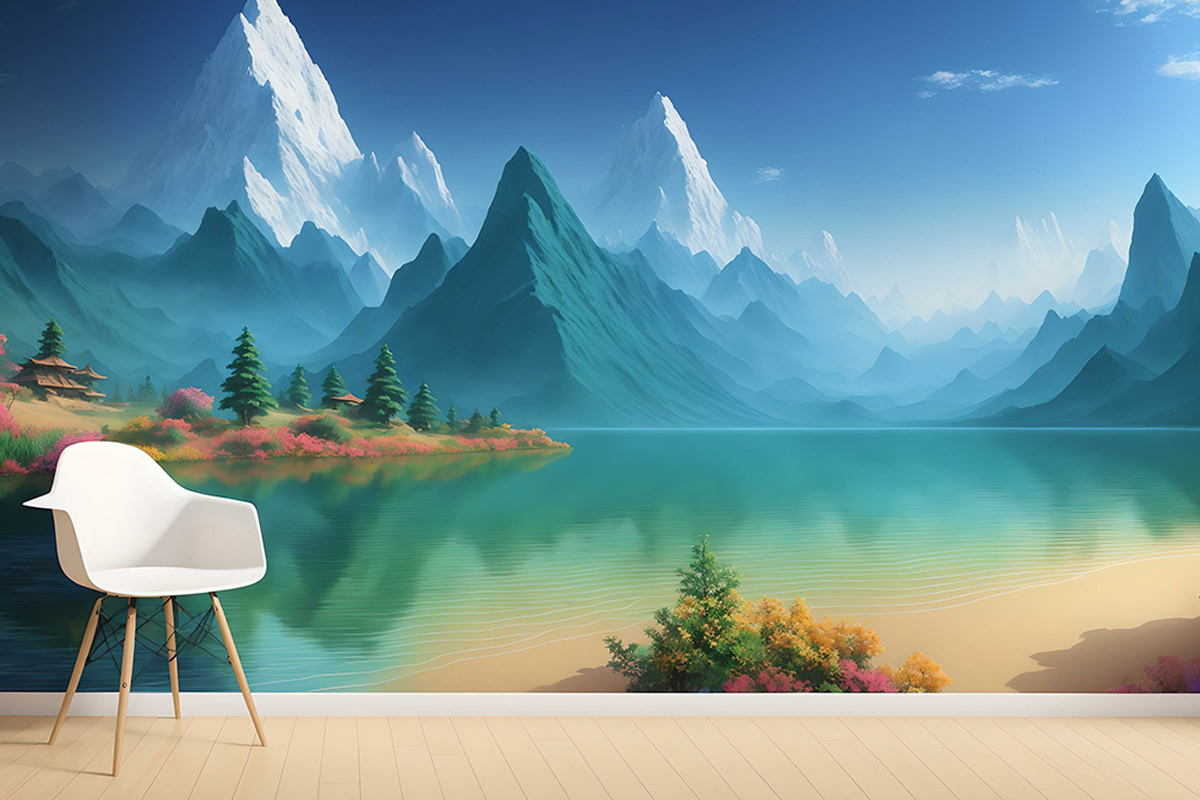 Incorporate nature-inspired murals, abstract designs, or whimsical themes into your interior design for a personalized and artistic touch. Artistic murals and wall designs can be used to create a unique atmosphere, focus attention on a certain part of the room, or simply add a touch of creativity to your walls.
From serene landscapes to playful patterns, there's a mural or wall design for every style and taste, perfect for a personal and truly stunning gallery wall.
Bring the outdoors in with beautiful and calming nature-themed murals. Nature-inspired murals can include:
Forest landscapes
Dreamy forests
Cloud-dusted skies
Jungle scenes
These murals add a serene atmosphere to your nursery or formal dining room. Imagine the tranquility you'll feel being surrounded by a masterful painting of nature on your walls.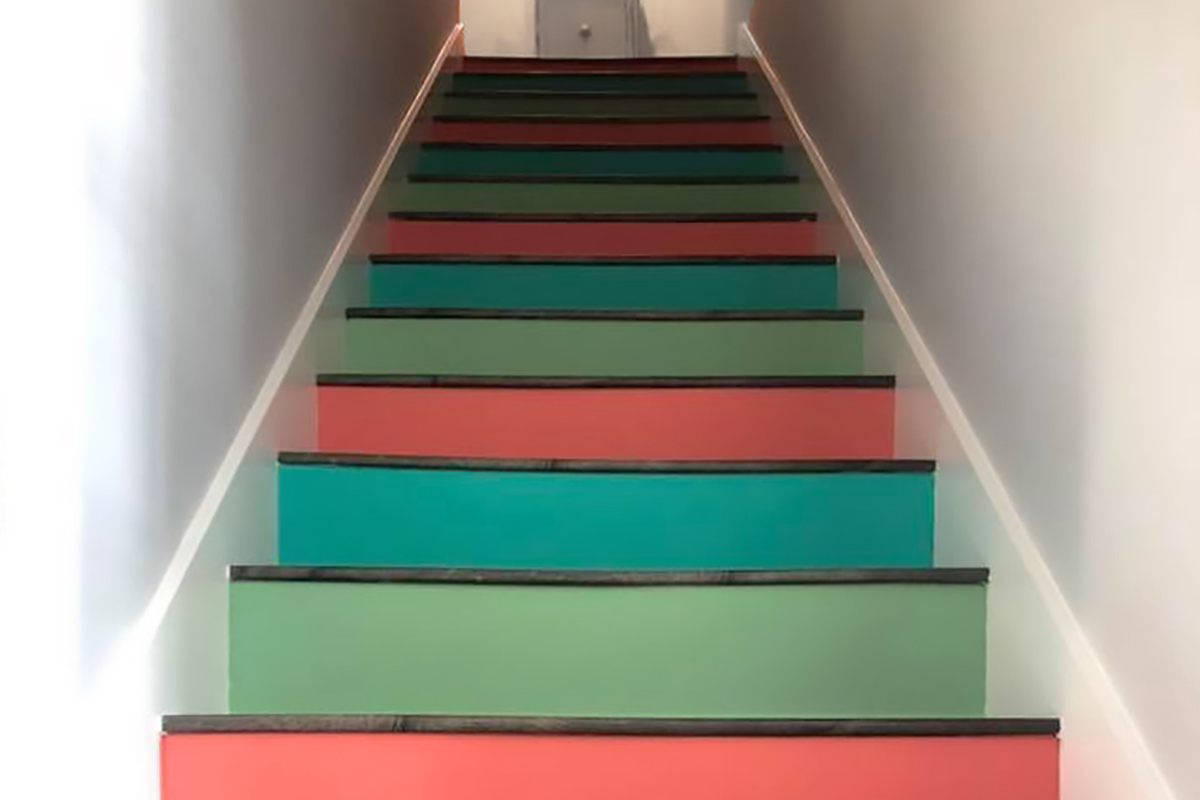 For a more post-modern vibe, you can add a modern and artistic flair to your walls with abstract paint designs. Free-hand designs, ombre and gradient effects, and color blocking techniques (more on that below) create a visually appealing and dynamic look. Select a color palette that reflects your personality and style - your home is an extension of you, afterall!
Color Blocking for Visual Impact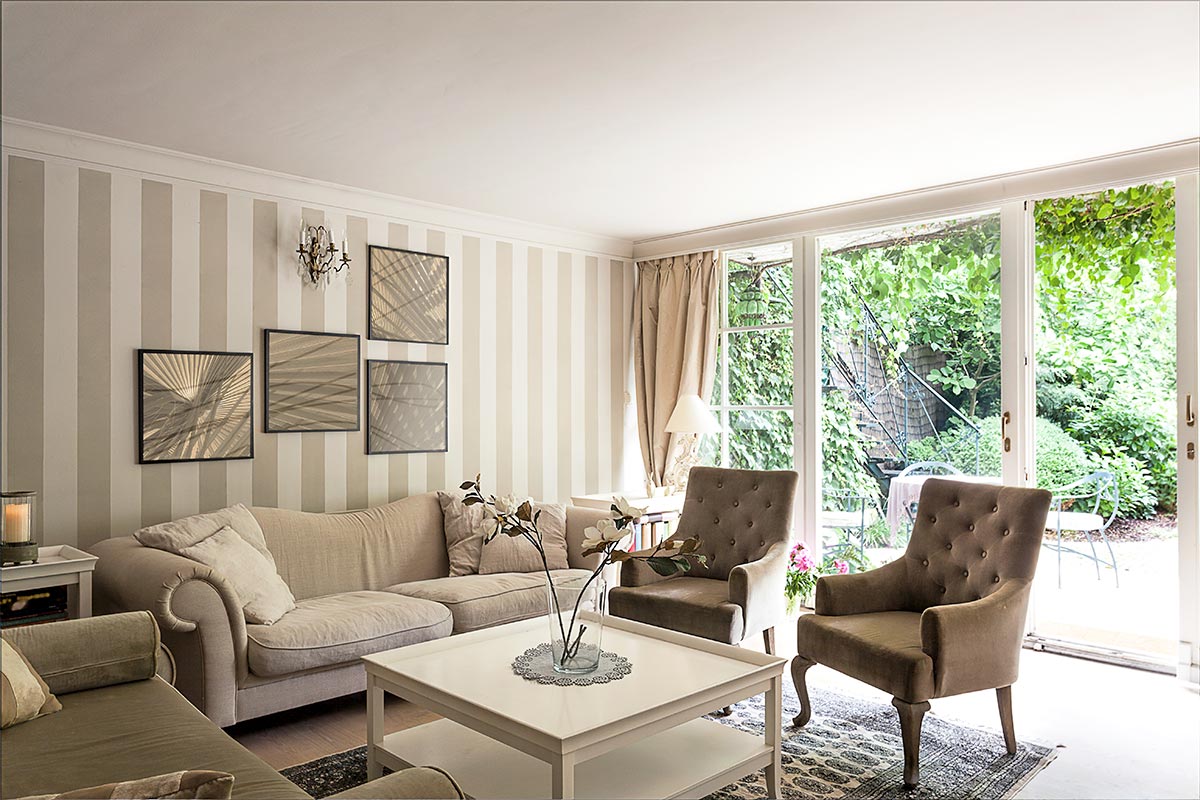 Use vertical, horizontal, or mixed pattern color blocking techniques to create a striking and visually impactful design. Color blocking can add a sense of balance and harmony to your space, while also creating a unique and eye-catching effect.
Add height and drama to your space with vertical color blocking. This technique involves painting vertically oriented rectangles of different colors on the wall, vertical stripes, or painting a vertical two-tone wall with contrasting colors.
Vertical color blocking can make a room feel taller and more spacious while adding visual interest and a touch of drama.
Horizontal Color Blocking
Create a sense of balance and harmony with horizontal color blocking. This technique involves using two or more colors in horizontal stripes or blocks that evokes a sense of leveling and grounding in your space.
Paint your walls with contrasting colors or combine neutral shades for a subtle and sophisticated effect.
Ombre and Gradient Effects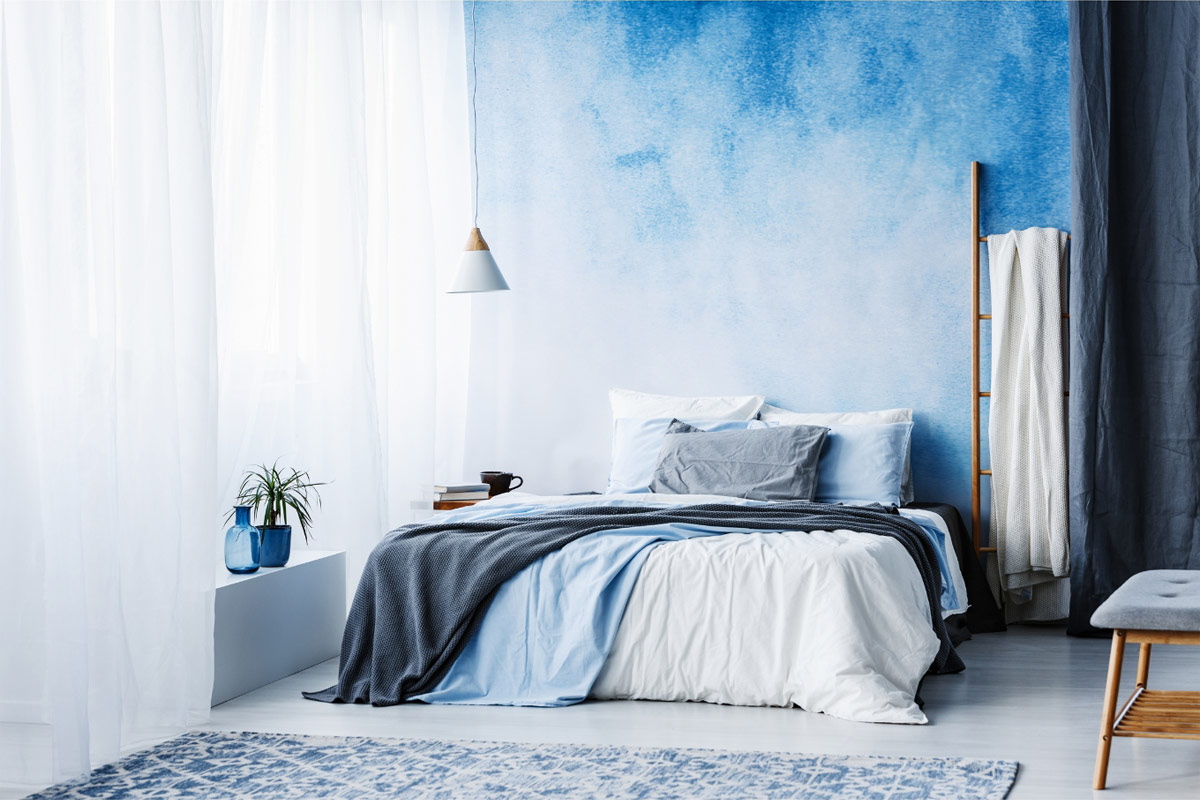 Ombre and gradient effects involve the gradual transition of color from dark to light, creating a subtle or dramatic effect in your space. Soften transitions from room to room or between floors of your home by incorporating gradients or the ombre effect on your walls or stairs.
Achieve a subtle and soothing effect with soft ombre transitions between colors. Soft transitions can evoke a calming and serene atmosphere throughout your hallways, bedroom, or open spaces.
Use this technique to create a soothing backdrop for your room or to add a touch of tranquility to an otherwise bold and vibrant design with calming colors.
Alternatively, you can intensify the pigments to make a statement with bold and dramatic gradient effects. You still achieve the transitional effect from darker hues to lighter ones, but create a stronger visual impact in the process.
So much inspiration! So many colors!
There are endless possibilities for how to transform your living spaces to match your style and to create the atmosphere you want to encounter when you open the door. From bold accent walls to calming neutrals, creative ceilings to striking trim and woodwork - there's a unique and inspiring idea for every room in your home. Embrace your creativity and contact Old Charleston Painting Company when you're ready to create a space that truly reflects your personality and style.